We are your Craft Beer Headquarters!
We specialize in Craft Beer by carefully tasting and selecting each beer in the collection. Currently we have over 300 Craft Beers from around the world. That's a lot of beer to taste, but it ensures that you will be satisfied with each beer you purchase.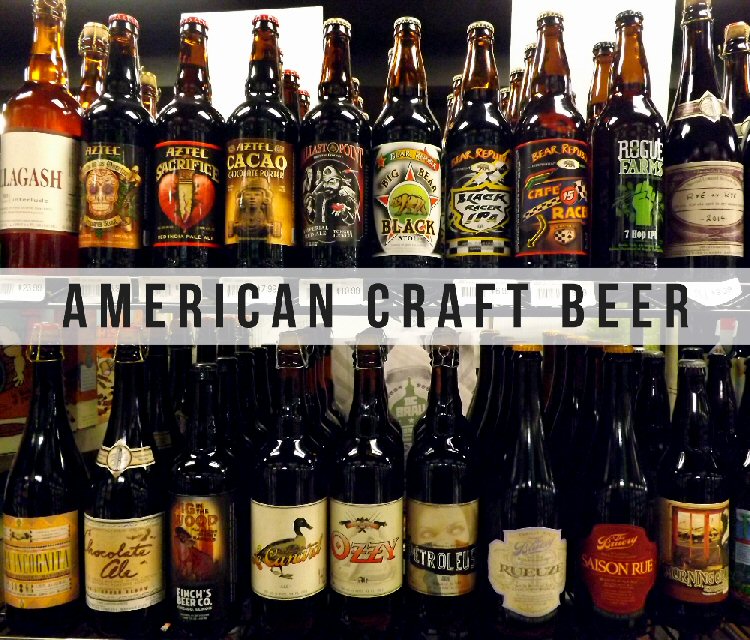 Included in our Collection of Craft Beers are the large bottle beers, Abbey Ales, IPA's, Stouts, Pillsners, Wheat Beers, Flavored Beers, among others. Whether its the old traditional Samuel Smiths Old Taddy Porter or Oatmeal Stout, or the special brews from Shiner or Samuel Adams, or traditional American beers, we are the place for your best selection of Craft Beer.
We have many other breweries, and if we don't carry it, we can order it at no extra charge to you! Come see our Craft Beer collection.
Some of the best Craft Beer
Sam Adams Thirteenth Hour
The combination of 7 different malts creates a brilliant black brew that's full bodied and smooth with rich notes of coffee, chocolate, and dark fruits like raisins and plums. The dark roasty, and slightly sweet flavors of a stout are blended with the unique, spicy and sour character of our Kosmic Mother Funk (KMF), an ale that's been aged in oak tuns for up to a year. The KMF gives the beer an added complexity with notes of black pepper, oak, vanilla, and a hint of acidity.
Sam Adams New World
Pale gold in color, this ale is big, flavorful and complex. A special Belgian yeast strain adds tropical fruit and spice notes to the crisp dry ale, while Saaz hops add a subtle herbal note.
Sam Adams Stony Brook Red
This unique brew defies traditional beer style definition. The rich, malty brew combines notes of tart fruit from the yeast with a toasty oak character from the barrel aging. The long dry finish is almost wine-like. This is a beer that is satisfying on its own and also pairs well with many foods such as braised or roasted meats, beef stews and strong salty cheeses.
Sam Adams Fat Jack
Pleasantly plump and satisfied. This rich and luscious brew indulges in flavor with over 28 lbs. of pumpkin per barrel, for a full bodied sweetness and deep russet color. Classic pumpkin pie spices like cinnamon, nutmeg, and allspice ignite a warmth and spark that's deepened by an undercurrent of roasty smoked malts. The result is a delectable brew full of enveloping layers of flavor and spice.
Sokestack Series
Boulevard Reverb Imperial Pilsner
With its classic recipe and impeccable craftsmanship, Reverb Imperial Pilsner echoes our Collaboration No. 1 Imperial Pilsner, produced in 2009 with esteemed Belgian brewmaster Jean-Marie Rock. Like its predecessor, this summer seasonal is a study in delicately balanced contrasts. Up front, Pilsner malt makes a clear yet restrained statement, answered by the steady, harmonious hum of Saaz hops, traces of which linger in the dry, crisp finish.
Boulevard Collaboration #3
Collaboration #3 Stingo was brewed using traditional English ingredients. A variety of ale and specialty malts from Yorkshire are at the forefront; their pronounced roasty aroma and flavor contain hints of toffee, cocoa and bread crust. English hop varieties contribute subtle herbal, peppery qualities. The beer was brewed in batches; some was fermented on oak, some was fermented normally, and some was allowed to sour in the mash tun before being transferred to a fermenter. Boulevard's brewers, along with Dann and Martha Paquette of Pretty Things Beer & Ale Project, then blended the batches until desired levels of wood and tartness were achieved for the final product.
N.B. Lips of Faith
The Alpine Beer Co. and New Belgium have come together for the love of IPAs. This collaboration is hop-wonderful with Amarillo, Columbus, Simcoe and Centennial hops, bringing the bitter all the way to the front. A nice balance Is present with Pale, C-80 and Carapils malts, but the tropical and citrus tones of the American hops dominate. This Super IPA pours a sheened copper and carries a bright, white head. Consider yourself a hero for getting an Alpine beer outside of San Diego.
Ballast Point Sculpin IPA
The Sculpin showcases bright flavors and aromas of apricot, peach, mango & lemon. The lighter body also brings out the crispness of the hops. The Sculpin fish has poisonous spikes on it's fins that can give a strong sting. Ironically, the meat from a Sculpin is considered some of the tastiest. Something that has a sting but tastes great, sounds like a Ballast Point India Pale Ale.
Ballast Point Dorado Double IPA
Hopheads rejoice! Dorado Double IPA takes hops to a new level. Mash Hopping, First Wort Hopping, Kettle Hopping, and Dry Hopping create an award winning beer that embodies San Diego's reputation for making world class IPAs.
Huge burst of lemons and grapefruit balanced by slightly sweet malts.
Dogfish Namaste
A witbier bursting with good karma. Made with dried organic orange slices, fresh-cut lemongrass and a bit of coriander, this Belgian-style white beer is a great thirst quencher.
About Us
When looking for fine wines, 20-year-old single malts or the latest local lagers, one name stands above the crowd – Whiteys Liquors. Since 1954, we've been your one-stop shop for any spirited celebration. No matter the moment, we'll help you make the most of it.