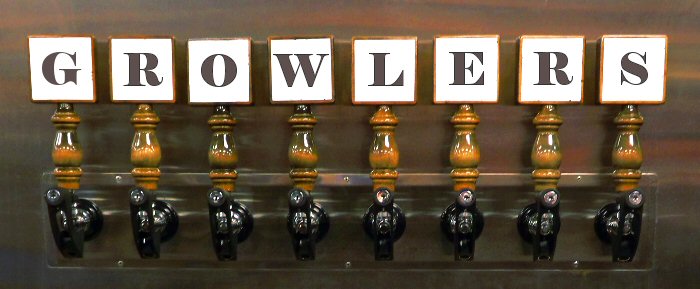 e serve growlers here at Whiteys!
Our 8 tap growler system features the best in local and national craft beer! Most are not available in package and many are them are limited production brews.
Try something new and different  by  buying one of our 32 oz. or 64 oz growlers and fill them with some amazing fresh beer! This week we have on tap;
Waredaca Brewing Company (Laytonsville,Md) Lime Gose
Peabody Heights Brewing (Baltimore) Psuedoscience Kettle Sour
Antietam Brewing (Hagerstown,Md) The New- New NEIPA
Black Flag Brewing (Columbia,Md) Transmutation IPA
Lost Rhino Brewing (Virginia) Flanders Red  Belgian Style Sour
RAR Brewing (Cambridge,MD) Fireside Brown  Vanilla Brown Ale LIMITED
Maine Beer Company Lunch IPA
RAR Brewing (Cambridge,Md) Slip Ons with Vic Secret and Citra
We are now an Untappd Verified Venue! Follow us and get notifications on new brews,new events and when kegs change!
Join our Growler Club for discounts,brewery tours and other stuff! It's free and relatively painless to sign up for! New Discounts!
We have expanded Growler Power Hours for football season! Thursday 5-6 pm  Friday 6-7 pm Saturday 4-5 pm Sunday 10 am-12 pm and Monday 5-7 pm
About Us
When looking for fine wines, 20-year-old single malts or the latest local lagers, one name stands above the crowd – Whiteys Liquors. Since 1954, we've been your one-stop shop for any spirited celebration. No matter the moment, we'll help you make the most of it.
23may
5:00 pm
- 8:00 pm
Wine Sampling
24may
5:00 pm
- 7:00 pm
Narragansett Brewing (RI) Sampling
25may
5:00 pm
- 8:00 pm
Old Line Distilling (Baltimore) Sampling