e serve growlers here at Whiteys!
Our 8 tap growler system features the best in local and national craft beer! Most are not available in package and many are them are limited production brews.
Try something new and different by buying one of our 32 oz. or 64 oz growlers and fill them with some amazing fresh beer! This week we have on tap;
Idiom Brewing (Frederick,Md) Got The Mojo Fruited Sour
Cushwa Brewing (Hagerstown,Md) Risky Clicks NEIPA
Reckless Aleworks (Columbia,Md) Head Case Hazy Pale Ale
Waredaca Farm Brewery (Laytonsville,Md) 3-2-1 Black Rasberry Gose
Idiom Brewing (Frederick,Md) Seeing Snakes NEIPA
Pale Fire Brewing (Fredricksburg,Va) Arrant IPA
Upcoming Growler Event 9/20/2019 with Union Craft Brewing! Special releases on Draft!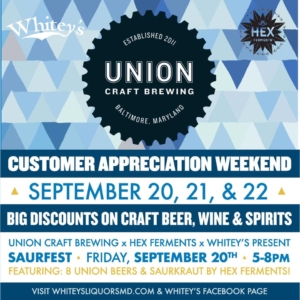 We are now an Untappd Verified Venue! Follow us and get notifications on new brews,new events and when kegs change!
We have expanded Growler Power Hours for football season! Thursday 5-6 pm Friday 6-7 pm Saturday 4-5 pm Sunday 10 am-12 pm and Monday 5-7 pm